Being told "You have cancer" is traumatic
In addition to the assault the cancer treatments do to your body, the mental and emotional aspects get hit hard too. Thoughts like "Am I going to die?" and "How long do I have to live?" are extremely hard on oneself! Rebuilding body, mind, and soul are necessary, and this is why this program was created.
Do you feel like you're getting off a rollercoaster?
Whether you're on active treatment or post-treatment, the Stop Surviving Start Living Program helps energize your entire self with the goal to bring you back to your normal, feel-good self! Although the results don't happen overnight, the Stop Surviving Start Living Program helps on a daily basis and allows you to move forward in your recovery journey one day at a time.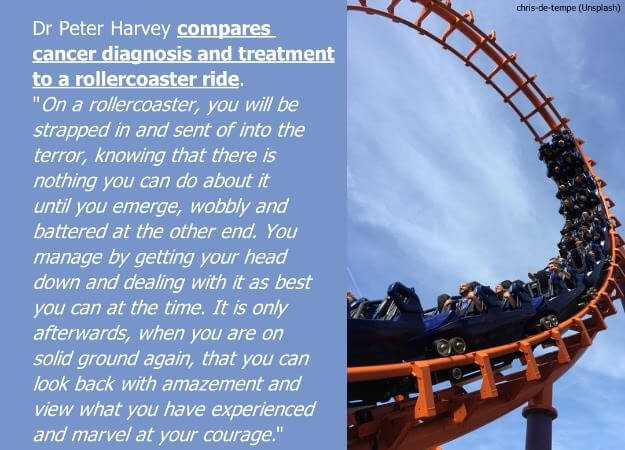 Why would our program help you?
This program was developed and created based on Elly's experience after her own struggles with rebuilding and energizing herself after cancer treatments. Her extensive research, tests, and trials taught her that addressing the body, mind, and soul all at once consistently was the most efficient and best way to recover and find some 'normalcy'.  Elly has hand picked and gleaned experts in various fields that have helped her the most to recover from cancer treatments. She has lived it, felt it, researched it, and did all the background work for you. All you need to do is press 'Play' to start reactivating!
What it's like on the other side?
Those who have tried this all encompassing Stop Surviving Start Living program, addressing body, mind, and soul together, have found it very beneficial. For example, some say that the program helps them most with reducing their aches and pain while others say that the program helps them most with staying happy. Some say that the program helps them most with having a clearer mind, while others say that the program helps them most with releasing negativity/trauma from the past. The possibilities and the variations of benefits are endless and vary with every person. This program has helped everyone that has tried it! It is your turn now to start Reactivating Yourself!
What is the Stop Surviving Start Living Program?
This is a program that contains 5 daily guided video modules that together sooth, lighten, relax, rebuild, and energize our body, mind, and soul all at once. The 5 modules are Air Flow (stretches and deep breathing), Pelvic Flow (specific pelvic movements), Dance Flow (dancing), Body Flow (body flexibility yoga movements), and Inner Flow (mind and soul rejuvenating modalities). See the benefits below for more details about the individual modules. The modules are all practiced daily through guided online videos. The module videos vary everyday to keep it fun, interesting, and motivating. In addition, every day has a different theme derived from the Inner Flow modality, again, to keep it interesting.
All that's needed for space is the size of a yoga mat – this program could be done in the bathroom if need be (we understand all the single moms out there)! And, the program can be done standing, sitting, or lying down. It is accommodating to your needs and situation.
As well, the modules can be done all at once, or anytime throughout the day. The complete practice is about 35 ~ 45 minutes long, depending on the day. This program is flexible and works around your schedule, which allows this program to easily become part of your daily routine and to be inserted into your busy schedules.
The modalities include different types of meditation, EFT tapping, and sound vibrations. All the modalities work differently and allow us to release negativity, stress, and/or trauma differently. Some modalities have also been attributed to radical healing*. It is important to have variety in our daily practice to give ourselves the best chances for recovery success.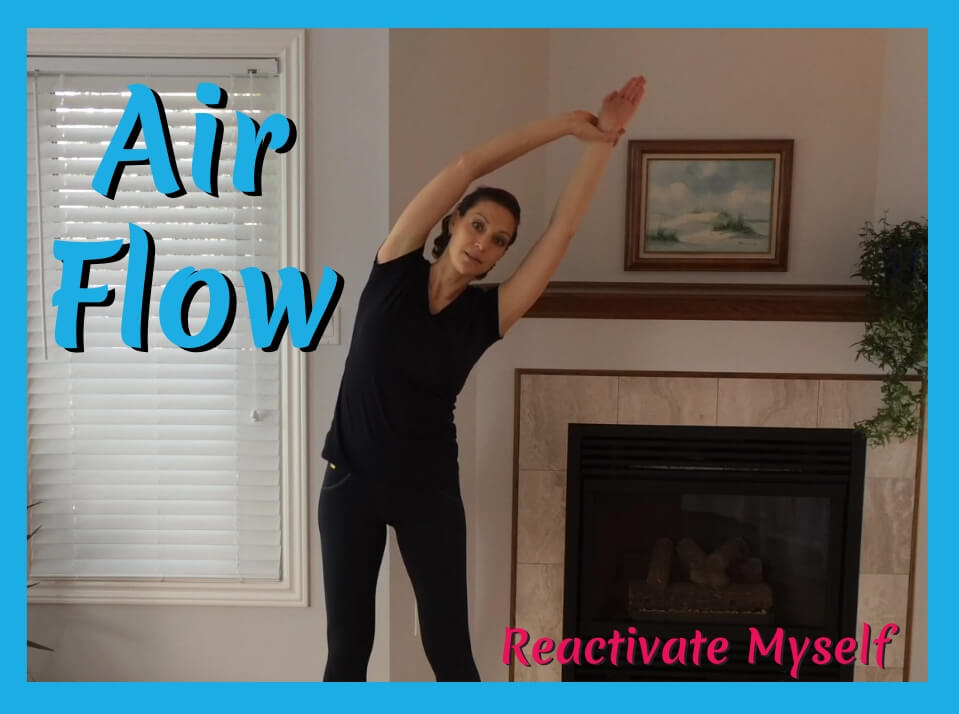 Air Flow
This first module consists of deep belly breathing and specific arm movements with the goal to move the lymphatic fluid in our body. Cancer treatments can leave us bedridden or moving very little, which can cause our lymph fluid to become stagnant. This module is specifically constructed to help flush out potential toxins from our lymphatic system by helping the fluid to flow. Here is a list of possible benefits for this module:
Body Benefits:

Release Toxins
Improve Flexibility
Strengthen Lungs
Improve Diaphragm Function

Soul Benefits:

Present Moment
Relaxation

Duration: ~5 mins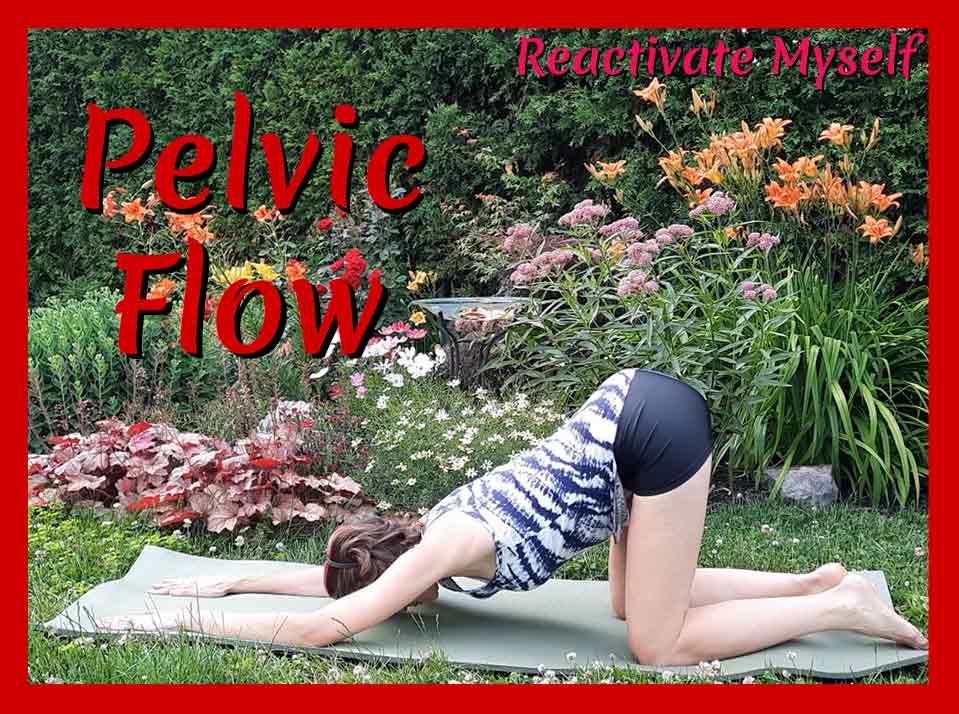 Pelvic Flow
This second module can be optional for some. It was included because urinary incontience is a side effect of cancer treatments and this module helps with this problem with specific pelvic movements. For Elly, the cancer treatments caused all of her muscles in her body to become tense and weak, and unfortunately incontience occurred. Doing Kegel exercises didn't work because of the tense muscles, so Elly researched and created this module specifically to address this issue: This module has two goals in order to improve this issue. The first is to relax the pelvic muscle and the second is to strengthen the pelvic muscle. Here's a list of other potential benefits for this module:
Body Benefits:

Relax & Strengthen Pelvic Muscle
Improve Incontinence
Improve Flexibility
Strengthen Lungs

Soul Benefits:

Present Moment
Relaxation

Duration: ~4 mins
.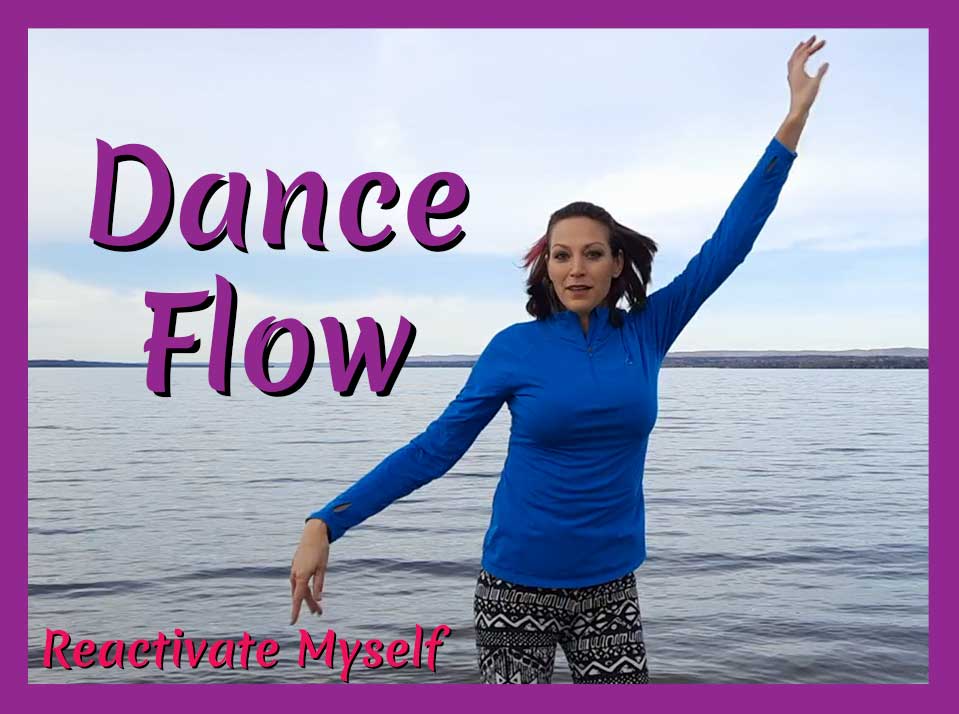 Dance Flow
This third module is a favorite by many because consists of dancing and singing our heart out to an uplifting and fun song that easily uplifts our spirits and puts a smile on our face. Those who have loved this the most seem to be those who don't dance and have never done this before. The goal of this module is to move our bodies in ways we normally don't, as we are being uplifted and energized! Here is a list of possible benefits for this module:
Body Benefits:

Movement
Increase Heart Rate
Sweating
Singing and Smiling

Soul Benefits:
Duration: ~4 mins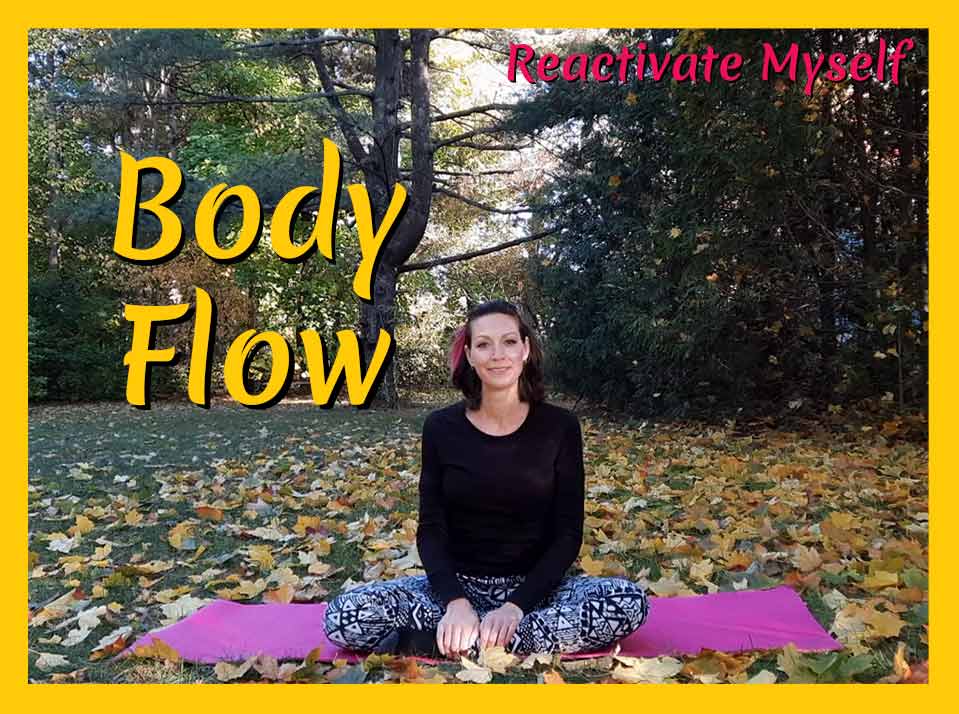 Body Flow
This fourth module consists of moving and stretching the body gently with some beginner slow-paced yoga or with some lymphatic yoga. It's main goal is to rebuild our body. Here is a list of possible benefits for this module:
Body Benefits:

Improve Flexibility (Which Can Reduce Joint Pain)
Strengthen Muscles

Soul Benefits:
Duration: ~12-15 mins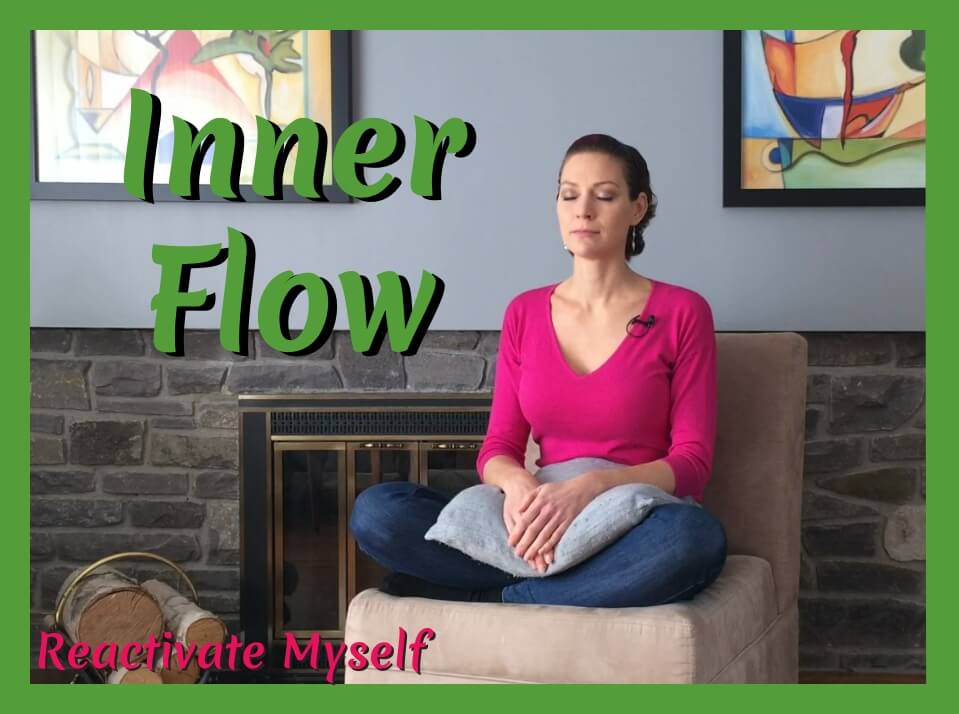 Inner Flow
Inner Flow is the last module of the program. Its main focus is on our inner-self, our mind and our soul. Going through cancer and its treatments is very traumatic and causes internal wounds, in addition to the obvious physical wounds. This module's goal is to address these internal wounds using different modalities, that vary daily, to help release and recover in different ways. One modality might work best in one instance and another at a different time or for a different wound. Having this variety of modalities is very beneficial and unique to this program. Here is a list of possible benefits for this module:
Body Benefits:

Release Trauma, Stress, and/or Negativity
Reduce Brain Fog & Chemo Brain
Improve Brain Function (Focus, Emotion Management, Information Management)

Soul Benefits:

Present Moment
Relaxation
Peacefulness
Connect to Higher Self

Duration: ~15 mins
,Is this program right for me?
😃
YES, if you are suffering from cancer treatment side effects and want to do something about it and take charge now, a little bit every day, instead of waiting for time to heal, which could be forever!
YES, if you want to rid yourself of negative feelings such as •Trauma •Sadness •Grief •Confusion •Brain Fog •Chemo Brain •Anger •Fear •Pain •Aches •Uncertainty •Anxiety •Emotionally Unstable •Exhaustion •Hopelessness •Loneliness •Weakness •Fragility •Brokenness •Battered
YES, if you want to feel: •Energized •Motivated •Empowered •Hopeful •Grateful •Love •Strong •Confident •Peace
YES, if you want to have more and better "good" days and have fewer and fewer "bad" days.
YES, if you want to feel more like your normal, better, feel-good self again!
🙁
NO if you want to stay as you are, suffering from cancer treatment side effects.
NO if you don't want to get better.
NO if you are passively waiting for time to heal.
NO if 35~45 mins per day of body, mind, & soul selfcare isn't what you're looking for.
Why choose this program?
AFFORDABLE – Completely Free!

ALL-IN-ONE – Just working on one or the other, body, mind, or soul, isn't sufficient based on Elly's experience, an all-in-one solution on a daily basis provides real momentum to recover, reenergize, and rebuild yourself.
BACKED – Backed by Elly's extensive research, taking courses, and attending webinars.
BENEFITS – A lot of benefits! Scroll up to see the benefits of all the program modules for the body, mind, and soul.
DIGITAL – Follow along with videos on you phone, tablet, or computer from the comfort of your own home.
DYNAMIC – No two days are exactly alike! Videos are continuously changing every day to keep it fresh, fun, motivating, and exciting.
EASY – All done for you, researched… All you need to do is click on 'Play', no need to try and figure anything out, it's all done for you.
FAMILY – Join our private Online family where you can ask questions and relate with other members.
FLEXIBLE – Easily integrate the program in your daily routine. The program modules can be done in sequence or throughout the day whenever is best for you so that you can go at your own pace.
GUIDED – You're not alone! Elly guides you through the practice every day.
LIFETIME – This program is your to keep for your lifetime. You can also repeat the course as many times as you wish and keep improving!
MOBILITY – This program can be done seated, standing, or lying down. It allows for all mobility restrictions and issues.
ONE-OF-A-KIND – Nothing else out there like this!
ONLINE – It's digital, so you can do it anywhere you have an internet connection!
SMALL SPACE – All that's needed is a space of a yoga mat!
SPECIFIC – Created by a cancer patient for cancer patients.
SUCCESSFUL – High success rate on people suffering from the side effects of cancer treatment
VARIETY – Many different types of inner self modalities, songs to dance to, breathing motions, and body movements.
WORLDWIDE – Tried and tested by people all around the globe!
"This program is exactly what I was looking for to help me get going and regain my energy, and I am so thankful to have come across and connect with the founder who is such a beautiful soul! I was at a point where I was really struggling to motivate myself, and this gives me more structure, whilst creating a daily routine that actually gets me excited about exercising, and I look forward to it every day! The numbness and neuropathy in my arms, alongside my bone aches have significantly diminished as well. My mood and emotional state are also better, It truly has reactivated me! 🙂"
Famida, Breast Cancer Conqueror
"Reactivate Myself is more than a program, it has become part of my daily routine. I look forward to doing it every day! I enjoy that I have the option of doing the program in the morning or the evening. In just 4 weeks, I've improved my physical, emotional, and mental wellbeing. I'm very grateful to have found this program and I continue to do it daily.
"
Lisa, Breast Cancer Conqueror
"Not only has this program helped me regain the range of motion in my arm that was lost because of surgery and bettered my mental capacity that was damaged with chemo, this program helps me ground myself and energize myself during the chaos of cancer treatments. I love that I can do this program in bed, on the couch, or anywhere I want. More importantly, the feeling of being alone is slowly going away and I am happier. I don't go a day without it!"
Carlia, Breast Cancer Warrior
"I recommend Reactivate Myself for the special, curated program that is just right for busy cancer patients (with little patience) because the program is so easy to follow and convenient. I found myself looking forward to starting my day with Elly's video for the day. It truly takes so much time to mine through the Internet to find useful tools and resources to promote wellness before, during, and after cancer treatment; Elly has not only done her homework to identify, vet, and present these resources, but I think she deserves an honorary "PhD" for the amount of knowledge she is willing to share with us all! I have found cancer to be a journey of sharing the information you know with others – sometimes we can't rely on our medical team for this information and we REALLY need to hear from a person who has walked the walk and fought the fight successfully. For that, I not only recommend Reactive Myself as a program, but highly suggest many follow Elly's example to see what a Cancer Thriver looks like."
Emilie, Breast Cancer Conqueror
"After I was diagnosed with breast cancer a friend told me that he knows "a girl who knows everything" and that talking to her would calm me down. He was right, Elly does know a bunch of things, from her own experience and from years of research.
I found out from her, not only everything about the surgery and what to expect but also about all other therapies which followed. Elly also provided a lot of very useful advice and suggestions which made me feel safer and more hopeful. Many of her advice I still use today even after finishing the conventional therapy. She gave me many new useful pointers in the meantime.
She is an amazing lady, calming, pleasant, full of life, in spite of overwhelming challenges she confronts every single day. Every conversation with her fills you with faith in a healthy future where nothing is impossible!"
Slavica, Breast Cancer Fighter
"Finally a fitness program touching on all facets of body, mind and soul. I have been doing it ever single day for close to two months! I love discovering what will be the dancing tune of the day and Elly's guided meditations are little jewels of happiness.
"
Cecile, Retiree Looking for Deeper Inner Life Connectivity
"I love it! I've never seen anything like this before. I'll be doing this program every day from now on!
"
Jan, Breast Cancer Survivor
"My greatest fear upon cancer diagnosis was not being able to live a "normal" life. Our medical system is built to treat the disease – to cut, burn, and poison it out of our bodies. What it doesn't do is teach us how to live after the trauma. From diagnosis to treatment, power is taken away from the patient. I was told it was just bad luck that I got cancer and that there was nothing I could do about it… and that just wasn't acceptable to me. Elly and I bonded through a shared desire to thrive with cancer. She is well-versed in alternative therapies and living proof that there are ways beyond the medical realm to change the course of the disease. Elly's program fills a much needed void in cancer care that puts patients back in control of their lives. It's a program created by and for cancer warriors, at all stages of their journey. My favourite part of the program is Elly herself – her compassion, honesty, and contagious awesomeness (just dance with her and you will see what I mean!). You can live with cancer, or you can thrive with it, and I chose the latter with Elly."
Christine, Breast Cancer Thriver
"

[This program] is helping with aches and pain!
"
Sinikiwe, Cervical Cancer Warrior
"When I first met Elly, she was pleasant, cheerful and receptive and keen to listen to what I had to say. It was not awkward although it could have been, given her diagnosis of cancer. She was there to learn what I knew to get help to beat it.
I was not an expert in any way in cancer, but was trained to help patients boost their immune system. Some people would call me a naturopath, but I am an MD, trained in integrative medical approach, some of my training from the American Academy of Environmental Medicine. Elly had already had surgery for Stage IV breast cancer, with radiation and chemotherapy. […]
Other than what an oncologist learns with fighting cancer with chemo and other targeted drugs, there is very little most doctors know about how to help a patient with cancer. I have learned so much by working with Elly, and I am grateful for what I have learned.
I now turn to her as a great resource to help my patients if they or a family member has a cancer diagnosis. I now no longer feel a fear when I hear the word cancer."
Dr. Jennifer Armstrong, MD
"I have worked in the fitness industry for 31 years. This program is unique as it addresses all aspects of the self. It enables people to work at a comfortable pace so they do not feel stressed to perform."
Louise, Fitness Instructor
"I started the Reactivate Myself program during my pregnancy to help me reduce stress and increase my physical activity. I really enjoyed Elly's meditations and learning the deep breathing techniques, that ended up being especially helpful during childbirth. Even though I was 9 months pregnant, I appreciated being able to complete the program because I was able to adapt the movements to my physical limitations."
Jinny, Hardware Manager & New Mom Looking for Selfcare
Ready to Reactivate? We know you won't regret it!
Go at your own pace – It is an online & modular program.

Take as little or as long as you want to complete it.

Includes 12 Visualization Meditations, 12 Quiet Meditations, 6 Lymphatic Meditations, 6 Chanting Meditations, 12 Expert Guided Meditations, 24 EFT Tapping, 12 Lymph Yoga, 72 Stretch Yoga, 84 Lymph Flushing, 84 Pelvic Floor Yoga, and 84 Uplifting Songs To Dance To!
I've recently been diagnosed. When can I start the program?
You can start right away (and it is best to start as soon as possible). Being told that you have cancer is very traumatic and can lead to side effects such as anxiety, stress, trauma. Working on your mental health as soon as possible is best.
Will this program make me cancer-free?
Unfortunately, this is not a cancer cure. What this program can do is improve the wellbeing of your entire self!
How long do I need to do this program for to start seeing results?
Members feel better physically, mentally, and emotionally within a short period of time (approximately two weeks) after starting the program. However, this program is not a miracle recovery cure and it is Elly's experience that practice over a long period of time works best to keep the positive results of having more "good" days than "bad" days. Experiencing low days or low weeks might still happen, but in Elly's experience, these will happen less often by sticking to this program. Incorporating this program as part of our well-being routine and making it part of your lifestyle is the most optimal way.
Can I do this program at the same time as other fitness activities or therapy?
Yes, absolutely! This program is very complementary to other body, mind, and soul activities; such as strength training, cardio, or mental health activities for example.
I don't have much energy, can I do this program in bed?
Yes! This program can be done lying down, sitting, or standing. We completely understand that there are days when getting out of bed is not possible. Simply follow along and do as much as is possible or as much as you can. This program is accommodating to your needs.
Can I do parts of the program at different times during the day?
Yes! The program modules can be done whenever it suits you best throughout the day. The program modules can even be completed in the order of your choosing.
Do I need to do the program daily? What happens if I miss a day?
It is best to do this program daily, but you can do this program as much or as little as you want. Nobody is keeping score. Do what you can, when you can.
It is ok to miss a day, we get it, life happens. The missed day can be completed at a later time within the month if you wish.
Do I need to stretch or warm up before I start the program?
Each routine should begin with a warm up. A warm up can consist of stretches, rotations, and movements. Warming up is important to help prevent injury and help maximize the benefits from exercising.
As a senior, can I benefit from this program?
Everyone can benefit from it. We are never too old to enjoy the benefits of movement activity, deep breathing, and mental health modalities. This program can help everyone improve their quality of life.
What do you mean by "All-In-One"?
What we mean is that this All-In-One program addresses all aspects of ourselves, body, mind, and soul all at once! So, you don't need separate meditation and yoga and brain exercises. It is all figured out, taken care of, and all done for you with this one program.
What if I can't do all the movements (because I'm pregnant, post-surgery, or other)?
This is not a problem. Just do what you can and do what feels right for your body. You can do as much or as little as you want or can. This program can be accommodated to all physical challenges.
Closing
The cancer journey is unbelievably hard! Let us help you with your recovery and cancer treatment side effects so that you can wake up excited for every new day, stop feeling alone and broken, get out of bed energized, live your life again, and move past the diagnosis of cancer. This is a simple done-for-you all-in-one tried and tested program targets all aspect of the self, body, mind, and soul that we strongly believe in.
There is a book called Radical Hope by Dr. Kelly Turner that summarizes the 10 key factors that all radical remissions cancer survivors have incorporated into their lives, and without knowing it, this Reactivate Myself Program includes 7 of the key factors. These 7 key factors are: Releasing Suppressed Emotions, Increasing Positive Emotions, Embracing Social Support, Taking Control of Your Health, Exercising, and Deepening Your Spiritual Connection. It is no coincidence that these 7 key factors happen to be in this program – it's because they can make a real difference! This program can help you improve your recovery and help you feel better. (Please note that we are not saying that this program can heal you from cancer.) We would love to have you join our Reactivate Myself Family and try it out!
We believe that having a short daily wellness routine for the ENTIRE SELF with social support is the best way to RECOVER and SUCCEED. And so far, all of our members have had wonderful improvements and experiences. We look forward to working with you and guiding you along your recovery journey.
Excited to join you on your wellbeing journey and honored to help you Reactivate!
We know you won't regret it!
Ready to Reactivate? We know you won't regret it!
Go at your own pace – It is an online & modular program.

Take as little or as long as you want to complete it.

Includes 12 Visualization Meditations, 12 Quiet Meditations, 6 Lymphatic Meditations, 6 Chanting Meditations, 12 Expert Guided Meditations, 24 EFT Tapping, 12 Lymph Yoga, 72 Stretch Yoga, 84 Lymph Flushing, 84 Pelvic Floor Yoga, and 84 Uplifting Songs To Dance To!